Are you ready for another announcement? Wuhan University of Technology CSC Scholarship 2022 is open for new Applications. Candidates from all over the world are highly encouraged to apply for fully funded Scholarships in China by the Chinese government scholarship program for academic year 2022-23. Almost all the degree Programs are available.  
WHUT CSC Scholarship 2022 is now open for Master and PhD degree Programs for all the International students. The Wuhan University of Technology offers many scholarships for international students around the world. Teaching Language will be either Chinese or English, depending upon the degree you are enrolled in WHUT. The Wuhan University of Technology was founded in 2000, are a major public university and one of the Best universities in Hubei province, China. Wuhan University has been the best university in the ranking as one of the top 35 among over 1,500 universities across China and worldwide ranking 355.
Complete duration for Masters research/degree program is about 03 years and that is 04 years for PhD degree Programs. First year is specified for the Chinese language and culture studies. A vast range of fields is available under CSC Scholarships by Chinese Scholarship council. You can apply for these scholarships till March 31, 2022. 
So, are you ready? Don't waste your time. Work on it's application and Documentation from today. All the details of this program are given below:
Description of Wuhan University of Technology CSC Scholarship 2022
Host country: China
University: Wuhan University of Technology (WHUT)
Available fields: Different (Given below)
Degree disciplines: MS & PhD
Age restriction: Details in Eligiblity criteria (below section).
Acceptance letter: No need (Optional) but it may increase your chances of selection.
Hard copies: No need to send hard copies of documents. Just online apply.
Deadline: March 31, 2022
Also checkout Also check out Scholarships in Russia without IELTS
Eligible Criteria
Applicants must be non-Chinese. Students from all over the world are equally eligible. 
Applicants must be in good health.
Must be an International Student out of China, or graduates of Chinese universities are eligible to apply for this scholarship.
Excellent performance in study.
Applicants should have good ability in scientific research
There's also an age restriction for this program. Applicants for Master's degree students must be under the age of 35, and doctoral degree students must be under the age of 40.
Click here to find out other scholarships for Masters students.
Available Fields
All the given fields are available in Chinese as well as English language. Only these fields are available for MS and PhD programs:
Traffic Engineering
Mechanical Engineering
Design
Environmental Science & Engineering
Civil Engineering
Vehicle Engineering
Computer Science & Technology
Mining Engineering
Mechanics
Business Administration
Click here to apply for fully funded scholarships in USA.
What it covers
Fully Funded in China
Full tuition fee
Comprehensive Medical Insurance fir international students.
Accommodation Fee
Registration Fee
Monthly stipend for Master (3000 RMB) for doctoral Students (3500RMB).
Research Fundings.
And much more.
Apply in RIPS Summer Internship in USA 2022
JOIN THE EMERGING NETWORK OF OPPORTUNITIES
Required Documents
CSC application form (that you'll get after submitting your application on the CSC portal).
CV (Click here to download)
Degree and Transcript (must be attested by a notary public)
Passport Size Photo
Scanned Copy of Passport
Two Letters of Recommendations
Study Plan for Masters and Research Proposal for PhD candidates.
Proof of Language Proficiency (English language proficiency certificate).
Photocopy of Foreigner Physical Examination Form
Personal Statement
Acceptance Letter (Optional)
Or any other supporting documents like publication and certificates etc.
Also apply for Fully Funded Scholarships in USA.
Agency Number
Agency number for Wuhan University of Technology for CSC Scholarships Type B is 10497. You can submit your application by put this number CSC portal.
Step by step guide for CSC Scholarship in WHUT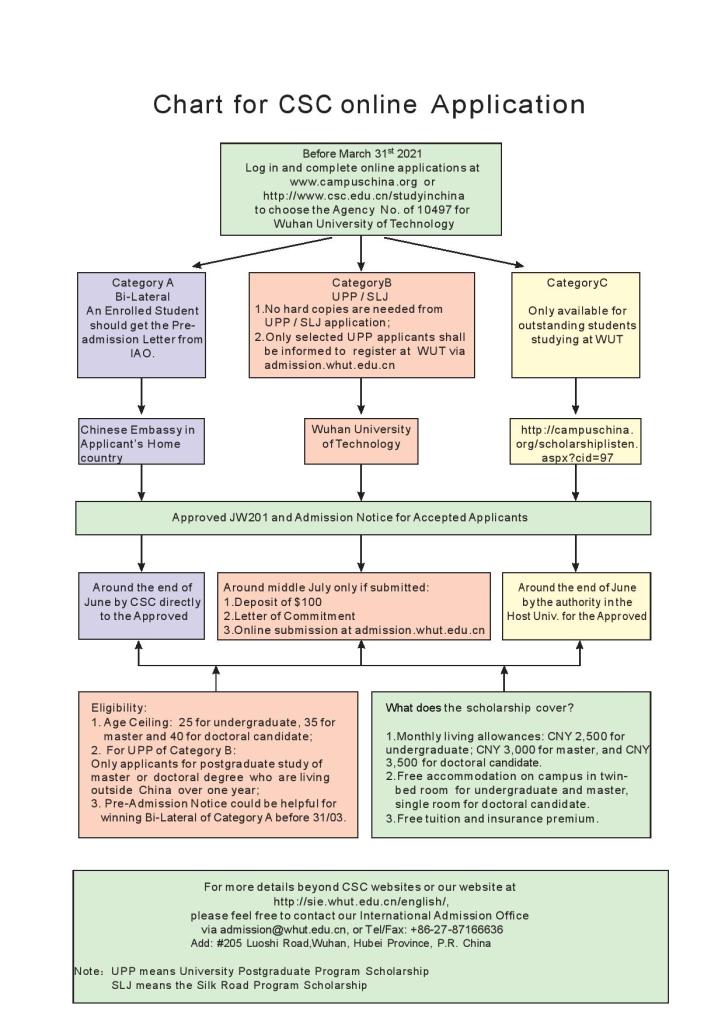 Deadline
Last date to apply for Wuhan University of Technology CSC Scholarship is March 31, 2022. You have to submit your application before given Deadline.
How to apply
The whole application process is online. There is no need to send hard copies of documents. Follow the links given below for successful application process. Good luck!
JOIN THE EMERGING NETWORK OF OPPORTUNITIES