Are you in search of paid Internships? If yes then you're on right page. 
Applications are open for Engro Fertilizer Summer Internship 2021. For all the students Engro Fertilizer company has come up with a great opportunity to gain hands-on experience of a multinational company by launching our Summer 2021 Internship Program. The internship opportunity is designed to allow students belonging to different domains get exposure to organization leaders, while working with the team of experts in different departments company wide. All Pakistani students from all corners of the country are eligible for this program. Every year, Engro Pakistan announces a lot of career opportunities. It's Internship opportunities are one of them.
A lot of pakistani students get benefits of it. All the students from all degree Disciplines i.e. Undergraduates and Masters Students are equally eligible for this program. So don't waste your time and start your initial career with Engro. After completion certificate will also be provided. There's no age restriction for this program but all the interested Applicants must be more than 18 years old. Almost all the fields are available and you don't need to worry about it. The Duration of the Internship is 06 to 12 weeks. More Details about this program are given below. So what are you waiting for? Check out the whole details of this program and then apply.
JOIN THE EMERGING NETWORK OF OPPORTUNITIES
Description of Engro Fertilizer Summer Internship 2021
Description of Engro Fertilizer Summer Internship 2021 is given below:
Host country: Pakistan
Internship location: Different
Host Institution: Engro
Genders: Both males and females can apply
Financial assistance: Paid
Certificate after completion: Yes
Duration of internship: 06-12 weeks
Available Fields: All
Degree Disciplines: Undergraduates, Masters
Nationality: All pakistani students
Application mode: Online
Deadline: 25 June 2021
More details about Paid Internships in Pakistan
Pakistani Fertilizers Company Engro Fertilizers is recruiting students for the Engro Fertilizer Internship 2021 – Summer Program. The duration for this internship program is 6-12 weeks. Stipend will also be offered to the selected candidates. Students of 3rd & 4th year who are currently enrolled in bachelors or masters program are eligible to apply.
As an intern at EFERT, you will be given an opportunity to work individually as well as within groups and teams, enabling you to enhance your skill set and experience and make a difference today, for a better tomorrow.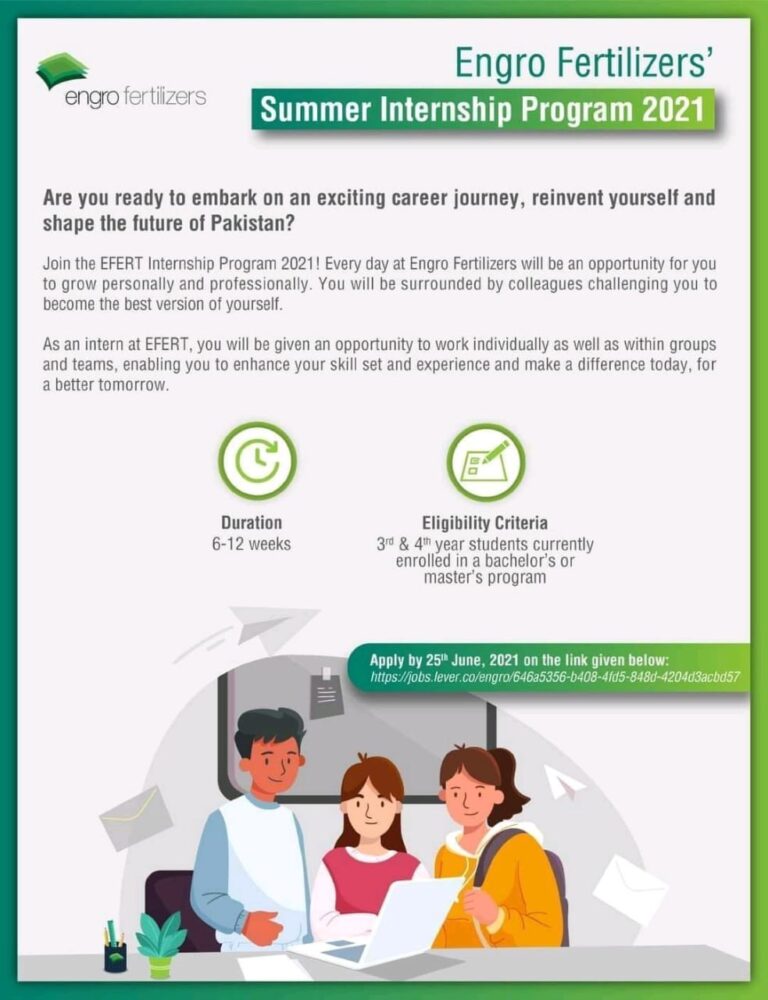 Required Documents
No formalities are demanded for this program. You need to apply with your CV/Resume. You must have your academic CV at time of Application. You can also add cover letter at the end of application forms. So don't waste your time. 
Deadline
Deadline for Engro Fertilizer Summer Internship 2021 (Paid Internships in Pakistan) is 25 June 2021. It's compulsory for all the interested Applicants to complete the whole Application process Before given Deadline.
How to apply
So, have you checked out all the details of this program? Are you interested and eligible? If yes then the wait is over. The whole application process is online. Follow the links given below for a successful application process. So, before going to the Application process, complete the whole formalities. 
JOIN THE EMERGING NETWORK OF OPPORTUNITIES