Career help portal is here with an other amazing announcement. Call for Proposals for CPEC- Collaborative Research Grant is open for the Academic year 2022. All the Pakistani researchers and students are highly encouraged to apply.
The CPEC- Collaborative Research Grant (CPEC – CRG) is one of the key components of recently launched HEC initiative namely "Academic Collaboration under CPEC Consortium of Universities". The overall objective of the said project is to understand and respond to the historic global geo-strategic and geo-economic transition and its impact on the region in general and Pakistan in particular, keeping in the view the broad Chinese Belt and Road Initiative and its Pakistan-specific component – CPEC. The national response to the strategic opportunity arising out of the emerging global dynamics is the CPEC Long Term Plan (LTP).
So what are you waiting for? Check out all the given details of this program and then apply.
Eligibility criteria
Principal Investigator (PI), must be a faculty member (PhD or FCPS/MCPS/FRCS) working on regular/ contract basis (contract duration equivalent to project duration) in Higher Education Institutions (public or private) of Pakistan that are members of CPEC Consortium of Universities, as per the list provided at HEC Website in the below mentioned link: List Members of CPEC Consortium of Universities.

Project team must include at least one academic partner as Co-PI from the Chinese HEIs that are listed as members of CPEC Consortium of Universities in the given link.

International collaborators from countries other than China are also encouraged particularly when they bring a unique added value to the project team The detailed eligibility criteria of Institutions are available in the link given below;

Eligibility Criteria for HEC Competitive Research Grants.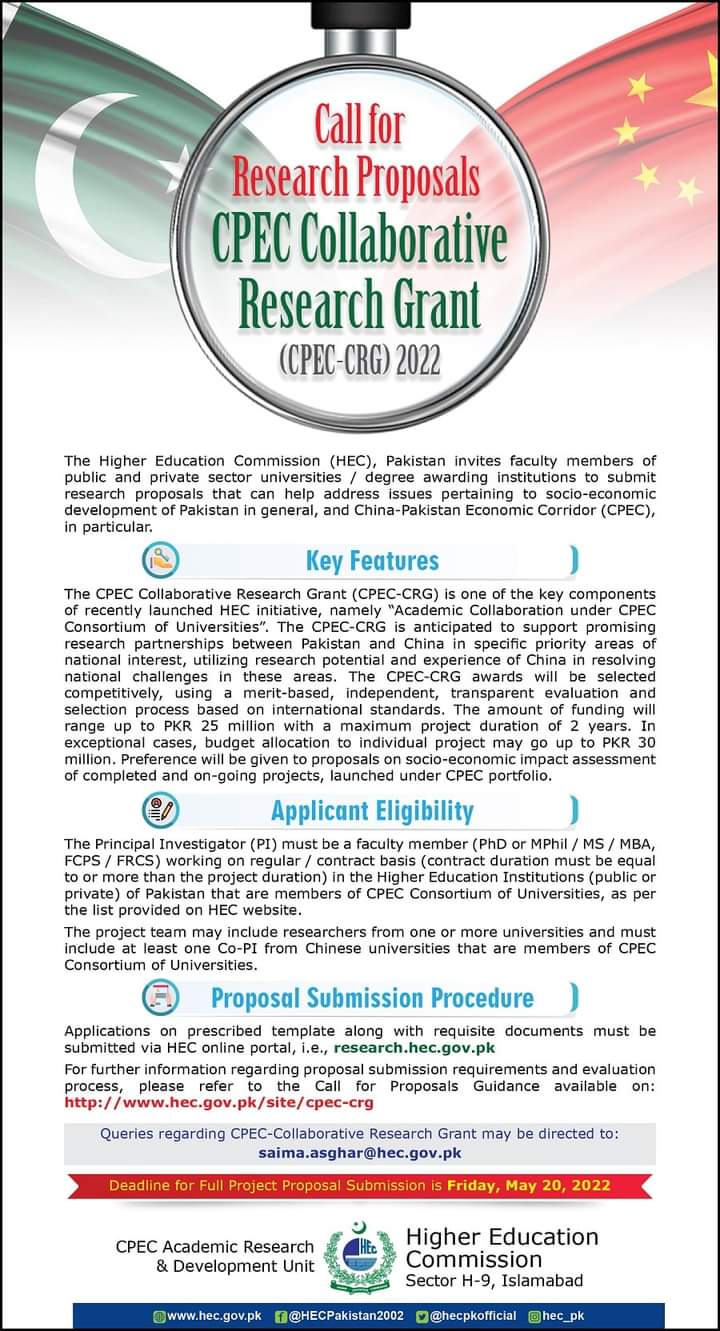 Deadline
Deadline for CPEC- Collaborative Research Grant 2022 is May 20, 2022. All the interested Applicants are directed to apply ASAP.
Contact details
Research and Development Division
Higher Education Commission,
Sector H-9, Islamabad.
How to apply
The whole Application process for CPEC- Collaborative Research Grant 2022 is online. Interested applicants can apply through HEC-R&D online portal. Follow the links given below for successful application process. Good luck!
JOIN THE EMERGING NETWORK OF OPPORTUNITIES